Amazing Staff!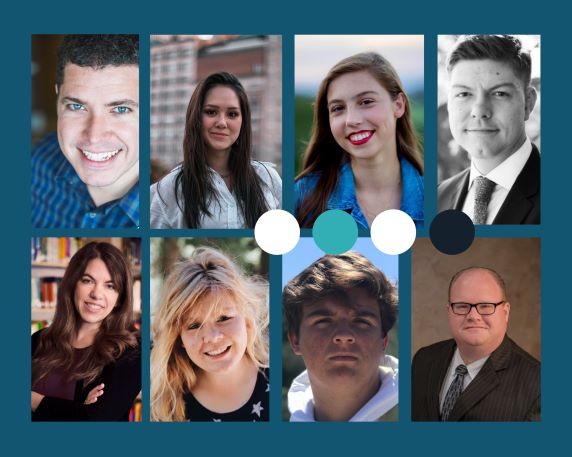 Camp Instructors
Founder and President: Griffith William Vertican Esq.*


Coach Griffith is the director of the National Institute for Homeschool Debate (with 170 participants it is the largest in the nation), he is also a licensed attorney and one of the most successful debate coaches in America. He himself won our nation's largest collegiate debate tournament the NPDA in 2007. Students who attended his camps have won every division of debate and students he personally coached took 1st place in TP Debate (Jeffrey Pistor) and 1st, 2nd, and 6th place in LD Debate at 2018 NITOC Championships. His students have also made it to the finals three of the last six years in Parliamentary Debate (winning twice in 2013 and 2017) and in 2015 won the overall tournament champion award.
Isaiah McPeak


is the co-founder of Ethos Debate Publications LLC. He has consulted and coached Fortune 500 executives, politicians, authors, keynote speakers, and students since 2003. He has coached several first place, national champion debaters, in parliamentary, policy debate, value debate, moot court, and persuasive speaking. His book Upside Down Debate is a five-star book on Amazon.
Heather Neumann


is the founder of Lasting Impact where she has been blessed to coach National Champion Speakers, National Finalists, and beginning students. "Speech is a journey... there is no telling where the Lord will take you or the impact you can make." She is excited to bring for the first time her top-notch speech program to Southern California. Check out her website here.
Eric Garcia


has been the policy coach for Veritas, CA since late 2006. As a college coach, he also qualified multiple teams to the NPTE for both Irvine Valley College and Biola University. He has 35 years of high school and college competition and coaching experience
Lab Leaders/Alumni speakers
Ethan Blount


has competed in Speech & Debate across the US for the last five years & made it to nationals all five years. Two years ago he won the national Parliamentary Debate Speaker title and this last year he won the national title in Extemporaneous Speaking. He has also won over 100 awards in many other events ranging from Apologetics and Demonstration to Original Oratory and Impromptu – including over 30 First Place awards. In all of his different forms of speaking, he appreciates the power and utility of oratory and understands that it's true purpose is for the Glorification of our Lord, Jesus Christ.
Sara Shipley


competed in Stoa speech and debate for six years, striving for excellence in every speech, every round, and every tournament. By the time she finished her sixth year, she'd been to tournaments in over seven states, learning invaluable lessons and skills. Sara specializes in Team Policy and Parliamentary Debate, as well as the limited prep speech events. She's passionate about using her skills for the advancement of God's kingdom and reinvesting into the community that invested so much into her. She can't wait to contribute to the learning and growth of the awesome students at NIHD!
Savanna Winchel


competed in STOA four years and affiliated with the STOA community for over a decade. She participated in various speech events including Open Interpretation, Duo Interpretation, Persuasive, Apologetics, Impromptu, and Wildcard events, placing in finals several times. Currently, a sophomore at Concordia University Irvine, she completed an Honors Argumentation and Debate class being thoroughly trained in Extemporaneous speaking and earning the highest grade going undefeated in parliamentary debate, winning the final round. She has a deep love for learning and enthusiastic passion for teaching students to do great things for the glory of God through the art of public speaking.
Ben Arroyave


has enjoyed public speaking since he gave his first impromptu speech as a five-year-old. Competing in Stoa for six years, Ben participated in Lincoln Douglas and Parliamentary Debate, as well as multiple Limited Preparation and Prepared speech events. In the 2021-2022 Season, Ben achieved ten 5-1 or 6-0 records in Lincoln Douglas and five winning records in Parliamentary. He also competed internationally in the World Schools Debate Format.
Ben believes that God can use speech and debate to create humble and competent ambassadors to a world that needs to hear His message of forgiveness and righteousness. He hopes to pass on the lessons he has learned to the next generation of speakers so that they may discover and hone their own talents to be more effective tools in the hand of God.
Megan Richardson


competed in Stoa for 5 years. She participated in every Stoa event and qualified for Nationals in all 12 speech events and 2 types of debate. She achieved the Founders Award two years in a row. She was awarded Tournament Champion multiple times and at the time of writing, is ranked 4th in the nation in overall speech and debate rankings. Megan is excited to share her experiences in Stoa and to share the joy that Stoa can bring to student's lives. She hopes that God will use her to help others grow in their speaking and debating skills, as well as their relationship with the Lord.
Nate Green


loves to equip people to build relationships through applied communication (debate). During his four-year tenure in the Stoa speech and debate league, he competed in all forms of debate, Apologetics, Cold Reading, Impromptu, Mars Hill Impromptu, Monologue, Extemporaneous, Original Oratory, Persuasive, Motivational, Demonstration, Dramatic Interpretation, and Duo Interpretation, winning numerous specific titles and several tournament champion titles. He was blessed to finish his senior season with a top-ten overall national ranking. After graduation, Nate continued to teach privately and was the head coach for a local debate club, continuing to hone his own and his student's skills. Today, Nate is excited to teach persuasion and debate with an emphasis on building up the competition.
NIHD Staff
Administrator & Tournament Director: Michelle Richardson
Worship Leader: Ginger Vertican Carrier
Director of Social Media: Charis Baker
STAY TUNED: ADDITIONAL GUEST SPEAKERS & STAFF COMING SOON!
*If you are interested in being on the NIHD staff team please contact nihdcamp@gmail.com